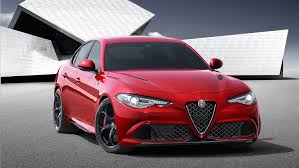 Leaving the entire automotive fraternity amazed, Alfa Romeo has created a buzz with its all-new Giulia saloon. The car was unveiled to the speedsters across the world at an event in Milan on 24 June 2015, pronouncing exciting surprises. More details about the car's surprises are supposed to be announced at the Frankfurt Motor Show in September. Here is the outline of astonishing features and facts revealed by the program's chief engineer Philippe Krief in an exclusive interview with a renowned car magazine.
The car was developed in two-and-a-half years by a bunch of 10 technocrats.
As per the automotive industry's standard, a car needs four to five years to be engineered. But Alfa Romeo Giulia was built in two-and-a-half years by a team of 10 specialists. Together, they set the parameters for the programme of coming up with a new Alfa.
The Giulia has plenty of Aluminium and Carbon fiber.
This Alfa Romeo's masterpiece—Giulia—has a lot of aluminium and carbon fiber. The suspension arms, front and rear, engines, doors and fenders are built in aluminium. The boot in the car (the cloverleaf), the roof, the structure of the seats and the prop shaft are made of carbon fiber.
The Giulia's chassis dynamics has a little bit Maranello magic.
There is a little bit of Maranello magic in the chassis dynamics of new Giulia. Philippe Krief, who has worked as a senior engineer at Ferrari, told to the magazine that he had contributed in the making of the 458 specially. He implemented the learnt know-how while engineering the Giulia, which is why it drives fantastically and gives a feeling of precise, quick, agile, stable rear-wheel drive (that's found in Ferrari).
The car's active aero changes shape as you drive.
This wonder integrates the most of everything, from the best engine, weight, suspension, tyres and torque, vectoring to aerodynamics.
Krief told to the magazine, 'You have to create down force; it increases the performance of your tyres. So we've developed this device to increase down force in corners. We start from the basis where the car has natural down force, but then we increase it in a bend: so in curves, the splitter is working to give you more down force; go back to a straight line and we want low Cx, low drag. The Giulia has two electric actuators linked to the ECU that understands if you're in a corner or a straight line, whether you're in an under steer or over steer situation, and in respect of that decides how to move the splitter.