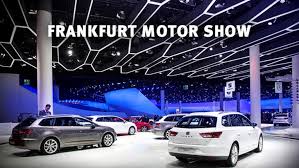 Putting an end to a yearlong wait for car enthusiasts, the world's largest auto show—Frankfurt Motor Show—will unveil the most awaited cars this September. The show is two months away, but it has created a buzz in the international automobile industry; the frenzy is because the event will showcase the most yearned cars from automobile giants. The 66th International Motor Show is going to bear the "Mobility connects".
The Frankfurt motor show—one of the most renowned European car events of the year—will witness major launches from leading automobile manufacturers, including Audi, Bentley, Alfa Romeo, Jaguar and Maserati.
The event will host trade days from 17th September to 18th September 2015 and public days from 19th September to 27th September 2015, at Trade fair grounds, Ludwig-Erhard-Anlage 1, D-60327 Frankfurt/Main. The show timing will be from 9.00 am to 7.00 pm.
This year all the stakeholders of the automotive industry are set to be amazed with the launch of Alfa Romeo Giulia, 2016 Audi A4, Bentley Bentayga SUV, New BMW 7 Series, 2016 BMW X1, Infiniti Q30, Jaguar F-Pace, Kia Cee'd 2015 facelift, Kia Sportage and Lotus 3-Eleven.
Along with this, the first look of Maserati Levante, New MINI Clubman, Mercedes C-Class Coupe, Peugeot 308 R Hybrid, Porsche 911 facelift, Renault Megane, Smart ForTwo Cabrio, Vauxhall Astra and VW Tiguan will be revealed.
The International Motor Show is known as the Internationale Automobil-Ausstellung (IAA – International Automobile Exhibition) in Germany. This event is held annually, showcasing passenger vehicles (including some motorcycles) in odd-numbered years in Frankfurt am Main and commercial vehicles in even-numbered years in Hanover.
Since 1897, the event has been a great platform for the world's largest automobile manufactures to display their brand new endeavors with futuristic orientations and innovative concepts.