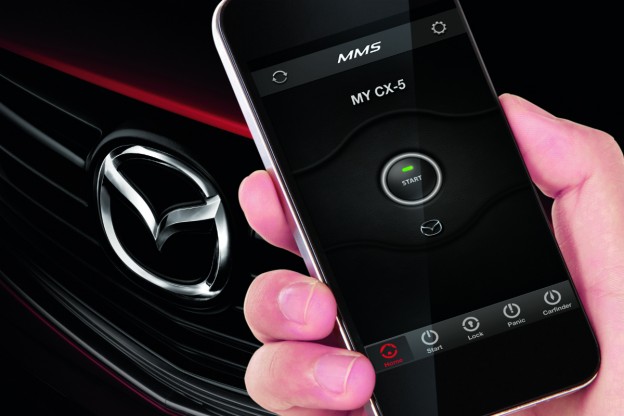 If you own a Mazda and a smartphone, there is good news for you; now, you can start or stop your car, locate it and lock or unlock simply with the help of an application.
Entering into the world of digital applications, Mazda—a Japanese automaker—is introducing a new mobile app that is named as Mazda Mobile Start. The app's User Interface (UI) and functioning are akin to a remote control. This application allows you to set car alarm; along with all these features, the app can help you to keep tabs on the location of your Mazda while you are away.
The app is the best choice whenever you wish activating your car's climate control operations. Once idle for or up to 30 minutes, the app will shut down the car automatically. In addition, the app will have a specific timer showing the total time for which your Mazda has run.
The app's UI displays a virtual key to lock and unlock the car. Further, with the app, you can activate the panic alarm, the horn and the hazard lights in case there is an emergency.
The application is integrated with Carfinder—a tool that helps you to locate your car in no time by using your phone's camera along with the GPS.
"Mazda Mobile Start comes with more than just the features and functions of the app; it also comes with peace of mind," said Trisha Quezada, manager of accessories, sales and marketing at Mazda North America. "Mazda Mobile Start was created with convenience and safety in mind to enhance the overall driving experience that matters so much to our customers."
For the time being, the application is available in the US only. It is available for free for the first year only; afterwards, users will have to shell out a subsequent subscription fee of USD 65 per annum. Along with this, you have to get hardware or a few kits fitted in your vehicle to ensure that the app functions properly.
If you are looking for full-functioning Reconditioned VW Caddy Engines, Reconditioned Mercedes Sprinter Engines and for cars, you can approach an online retailer.